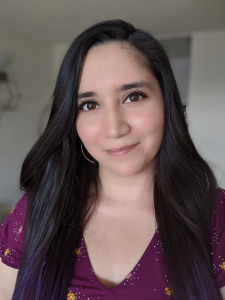 Conoce a Paula
About me
Hi! I'm Paula Herazo, the maker behind Nightly Crafter Shop. I live with my husband and my pup Toki in San Francisco, California, but I'm originally from Santiago, Chile, so my first language is Spanish.
Growing up, I was always interested in creating new things. I tried with beads and jewelry, clay, handmade paper, illustration, etc. You name it, I tried. But of course, over the years, there was a material that I never quit… yarn! Because it was always present in my day. My grandmother and my mother used to knit together. They made a lot of o clothes, my mom used to do the arms of the sweater and my grandmother the body, they used to divide the work choosing their favorite part. That smart, isn't it? They taught me how to knit and crochet, but I never was pleased with the knitting, so I select crochet, and the rest is history.
I have to be honest and tell you that some years I quit to crochet because I was a little bit lost with everything in my life. Still, I have never leave crafts or the maker movement, so now finally, when I think I'm okay, I decided to collect some of that journey here and share it with you, and I hope you like it.
About Nightly Crafter Shop
Nightly Crafter Shop born this 2020 like a rebrand from my old shop (Hina Palitah). In reality, I was never attached to the old name I just kept it, and the time passes with it, but now I wanted to make a change and selected some more adequate to me. I'm a night owl, so practically all my craft is my at night time, so here I am with my new brand.
The original shop was born in 2011 when I started to crochet like a form to distract me from my thesis for my bachelor's degree. It was an escape from the stress, but I began to accumulate a lot of amigurumis, so I decided to start selling some stuff to do more space in my room for new things. Since there I've been playing with my shop and guessing what I want to do with it and I think there know now. Crochet patterns and amigurumis, like the protagonist and a few other crafts because I can't choose just ONE thing. Can you?
Please feel free to email me anytime at nightlycraftershop@gmail.com, or find me on Etsy and Instagram.
Thank you so much for reading. ❤

instagram @nightlycraftershop